About the Society
Alpha Delt is a fluid, dynamic institution. While we retain the same core principles that our founding siblings held 175 years ago, the house is constantly developing and evolving along with its membership.
In the words of our founder, Samuel Eells: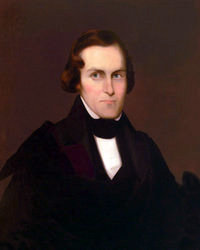 "[Alpha Delta Phi] must be built on a more comprehensive scale than other societies in regard to its intellectual proportions; providing for every variety of taste and talent, and embracing every department of literature and science . . . it must be national and universal in its adaptations, so as not merely to cultivate a taste for literature or furnish the mind with knowledge; but with a true philosophical spirit, looking to develop [the] whole being–moral, social and intellectual."
At our core, we are a group who strives to do our best to live up to these words. Each year, Alpha Delt proudly sponsors a number of literary series, lectures, and discussions with the purpose of promoting the moral and intellectual development of our members and the larger Wesleyan community.
Learn more about the national society at adps.org